Better fleet
maintenance
and compliance
Forget all the spreadsheets and complicated, outdated, clunky software. Gearbox is the easiest way to manage fleet maintenance and compliance.
ANY FLEET
For all kinds of equipment
Gearbox manages any kind of asset that requires periodic maintenance - on or off road, fixed or mobile plant and equipment. Used by fleets from 3 to 3000 assets.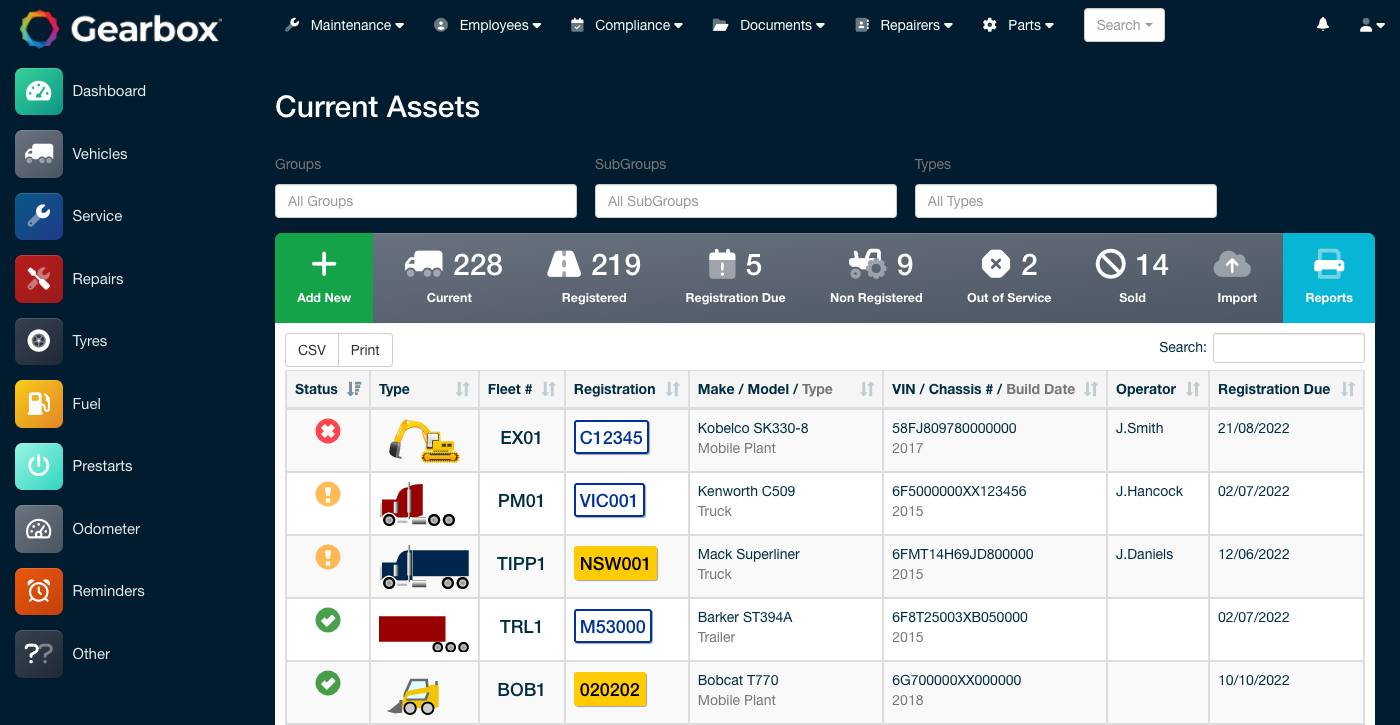 FEATURES
Everything you need to maintain your fleet
Centralise Maintenance & Compliance for all of your assets.
Trusted by fleets large and small
Hundreds of fleets rely on Gearbox for fleet maintenance and compliance everyday
Assets

150k +

Work Orders

4M +

Prestarts

7.5M +
FEATURES
Ready to Go
What's different about Gearbox?
Ready to go
Gearbox is built specifically for maintenance and compliance. There's no need for you to build workflows, service scheduling logic, create driver apps or compliance reports. We've already done all of that for you.
Here to Help
You don't need a consultant or IT person to setup and manage gearbox. We help you from the start and as required to configure and get the most out of Gearbox for your business with ongoing support and training.
Industry Knowledge Built In
A B/500 hour services include all items in a A/250 hours. Only accredited vehicles appear in NHVAS/WAHVA reports. Prestart is a driver specific app for Prestart, Fault Reports, Fuel & Loadsheets.
Ready to see Gearbox in action?
Book an online tour with our team or try Gearbox yourself free for 14 days